Want to add more Photoshop brushes to your collection? No artist is complete without the best tools. That's why today we want to share with you the best brushes for the favorite program of all Latin America united.
Don't know what #$*%! a brush is or how it could help you look more pro? Relax, because we'll tell you what a brush is, what it's for and how you can install it.
What is a Photoshop brush and what is it for?
Just as in life itself (and when you were painting in kindergarten), Photoshop brushes simulate those strokes and shapes that can only be achieved by painting freehand. It's as if you were painting with your hand and a real brush on the computer.
A brush, as it is known in English, will make your work acquire new textures and obtain high-impact effects, making it easier for you to create all kinds of shapes.
You will forget having to draw simple details, with a brush you will be able to reproduce shapes in record time.
The most influential (and best paid) designers manage to stand out in what they do because of their great care in the details and because… they have an infinite number of brushes, which they use to give originality to each of their works.
Something you have to know is that these brushes are only shapes, which you can adapt to your needs by modifying their thickness, intensity and color.
What types of Photoshop brushes are there?
There are brushes for everything, from brushes that will make it easier for you to create grass, to brushes that will help you create clouds or steam effects.
How you use them is up to your imagination. For example, a brush designed to create a beard can also be used to bring a field to life, creating grass.
Can you imagine painting with watercolors without using real watercolors? The answer to that is Brushes!
Would you like to make an abstract work in which a geometric element is repeated thousands of times? More brushes! And the shapes and configuration of each brush make it have almost unique characteristics.
This is a brush you could use for lettering from another planet, how about it?
Where do I find these Photoshop brushes?
By default, the program already includes a decent number of brushes that you could use to start learning. Although they are not very varied (some are so similar to each other that you will feel the options are very limited).
You can access the brush tool by pressing the B key or by searching for it in your left side panel.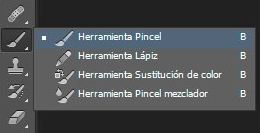 To access the gallery of available brushes, you will have to go to the top left, or by right clicking while you have the brush tool selected.
You will be able to edit the settings: make it bigger, smaller, opaque, etc., and choose the one you prefer (from the basic library).
Also, don't forget that you can choose the color with which you will implement Photoshop brushes. Creating color palettes that are compatible with your clients and your projects is very important.
How to install Photoshop brushes?
Did you know that you have the option to create new brushes from images? This opens up a world of possibilities.
However, the preferred option for most designers is to install brush sets shared by other design artists. In order to have a style similar to that of our favorite artists, we need the same ingredients as them.
To install the Photoshop brush packs we have for you, you only have to download one and open the Photoshop brushes panel.
Click on the little wrench in the upper right corner and in the options menu choose "Load brushes" (or "Cargar Pinceles" if your Photoshop is in Spanish).
That's all, it's as easy as that to install them. Without more to tell you about Photoshop brushes, we leave below a selection of the ones we consider essential for your work. Download them by clicking on the links.
Smoke brushes for Photoshop
Smoke brushes for Photoshop
Looking for a smoke brush to use in Photoshop? In this file you will find brushes for Photoshop with the effect of suspension in the air of small particles. Give a touch of mystery to your designs. Try them all.smoke brushes
Smoke Fire Brushes
Look no further. With this brush pack you can add those thin (barely visible) lines of smoke from a flame to your designs. This set contains Photoshop brushes ready for download.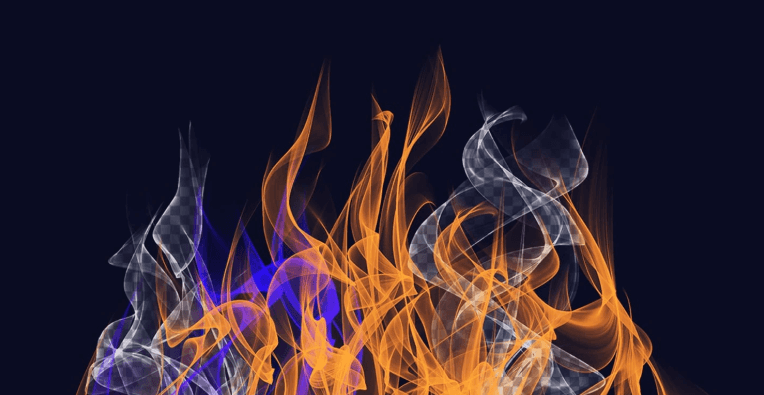 Stay tuned for future updates and to download many more brushes.