Wedding Photography Ideas, 15 interesting and very romantic wedding photography ideas suitable for any wedding.
Save the ideas you like and repeat them at your wedding! 15 wedding photography ideas Any wedding photographer will advise you and come up with various ideas or poses, but it is also important to understand your needs.
Take a closer look at this list of 15 interesting and creative wedding photo ideas, and you will definitely find some special features for your couple:
1. The ring is a symbol of true love
Outdoor wedding photography ideas Put your hands together to form a heart and show the wedding ring. In this way, you can show the meaning of your eternal love and events.
2. Take a photo above
The antique staircase and your elegant white wedding dress and the groom's black suite look dazzling. Due to the symmetry and pattern, the photo will look beautiful.
3. Passed on from generation to generation
Let your family portrait with your parents be creative – try this wedding photography idea. Try not to pose-keep your lifestyle and emotions.
4. Take a photo with your father
Wedding photo ideas This is one of the most moving wedding photography ideas, because every father is unwilling to bring happiness to his daughter. Ask your photographer to take this type of photo far away to capture real emotions.
5. Stay crazy
Outdoor photography ideas If you want some funny wedding photos instead of formal wedding photos, please make a face or a special scene. If there are children in the photo, it looks particularly interesting.
6. Body exchange
Unique wedding photography ideas Buy a mirror on Amazon You can use the mirror to take interesting photos. For example, you can swap bodies with each other because the groom's body will have a female head, and vice versa.
7. Cheers!
While being surrounded by your closest friends, tell them how you feel and why you raise your champagne glass or… a beer bottle?. Just make sure to let the photographer capture the moment and capture your emotions.
8. With your best friend
They have been by your side for many years and may even introduce you to your future husband. Keep your lifestyle and use confetti or other props to improve the atmosphere of the rock party. Check out unusual and basic wedding photography props.
9. Jump on the bed
As long as your camera has a timer, you don't even need the photographer to take this photo. Just behaved like a child and jumped onto the bed. To get professional portrait retouching, please contact our wedding photo retouching service.
10. Photograph children
Outdoor photography ideas Kids will never let your wedding photos become boring or overly formal.Just ask the photographer to take a few baby pictures with you and your groom.
11.Goofy socks
This is one of the most unique wedding photography ideas for the groom and his friends. The variety is endless. Their socks can be matching or cartoon (for example, superheroes).
12. Your wedding bouquet
A wedding bouquet is a special accessory for every bride. I prefer to take these photos on a monochrome background to add color to the bride and her wedding bouquet.
13. Almost done
This is better than an in-front wedding photo of the bride or groom preparing for the wedding. Many people are placed in small rooms using natural light and wide angel lenses.
14. The groom's final preparations
This wedding photography idea is for the craziest men. When you are about to go out, take a photo with your friends and they will help you complete the preparations. Give everyone a job. Someone can tie shoelaces, while another best man can adjust his hair.
15. Behind the door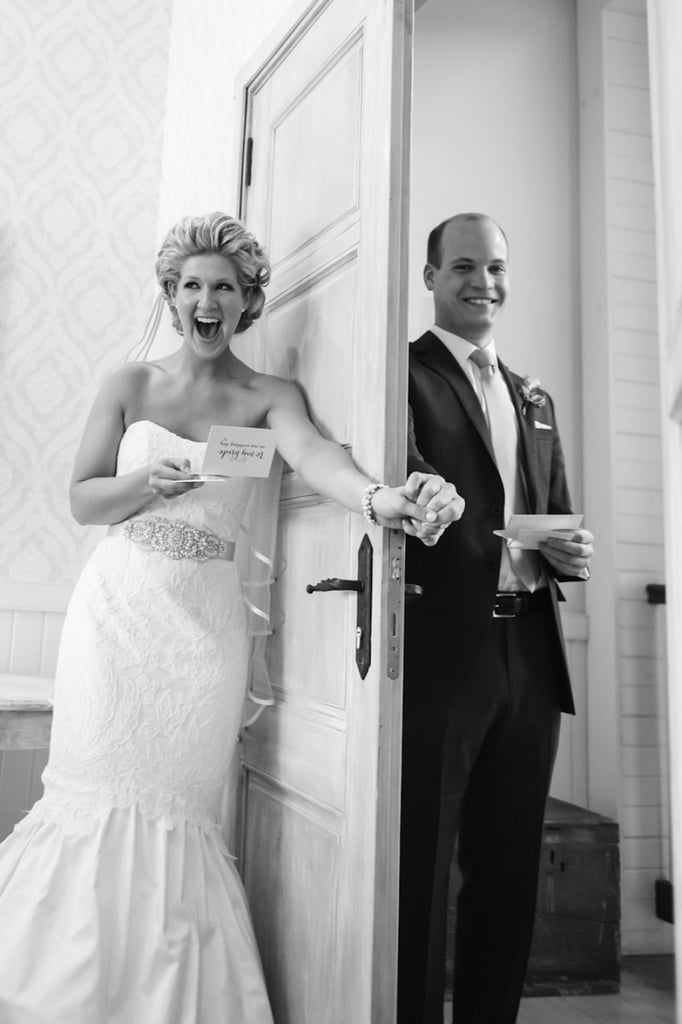 The groom was not allowed to meet with the bride before the ceremony, but while he confessed his feelings, there was nothing to prevent his hand from passing through obstacles such as the big wooden door to hold her bride.